Paoloni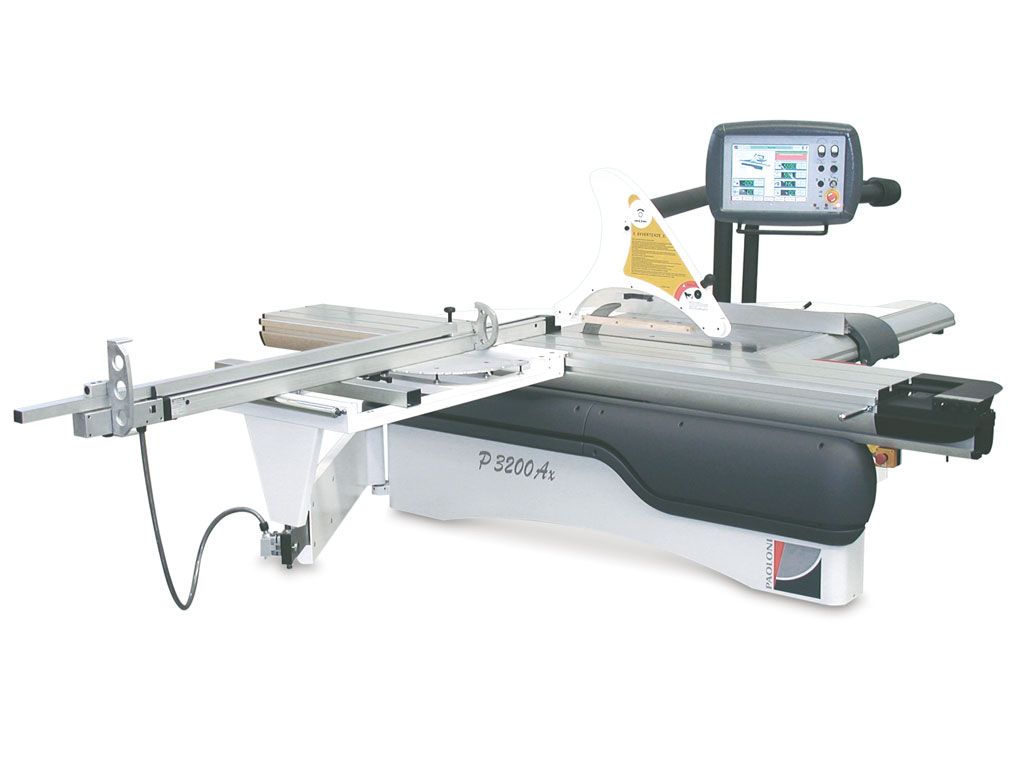 TECHNICAL DATA
P3200NX
P3200SX
P3200AX
SAW
FIXED TABLE DIMENSIONS / HEIGHT
mm
1150 x 680 / 870
1150 x 680 / 870
1150 x 680 / 870
CARRIAGE DIMENSIONS / STROKE
mm
3200 x 400 / 3500
3200 x 400 / 3500
3200 x 400 x 3500
CUTTING WIDTH
mm
1300
1300
1300
MAX DIAM. SAW BLADE / HOLE
mm
500 / 30
500 / 30
500 / 30
CUTTING HEIGHT AT 90°-45°
mm
177 - 133
157 - 111
157 - 111
TILTING BLADES
°
0° - 45°
0° - 45°
0° - 45°

SPINDLE SPEED

SAW Ø 30 mm

g/min

3000/3600/4200

3000/3600/4200
3000/3600/4200
MOTOR POWER
KW
7,5
7,5
7,5

UPPER AND LOWER

DUST EXTRACTION

HOOD Ø

mm

120 / 100

120 / 100
120 / 100

STANDARD

SCORING SAW WITH ELECTRIC HORIZONTAL ADJUSTMENT (POST FORMING OPTIONAL)

Ø BLADE - Ø HOLE, STANDARD SCORING SAW
mm
125 - 20
125 - 20
125 - 20
Ø BLADE - Ø HOLE, POST FORMING SCORING SAW (optional)
mm
230 - 20
230 - 20
230 - 20
SCORING//POST FORMING UNIT CUTTING HEIGHT
mm
8 / 50
8 / 50
8 / 50
SHAFT SPEED STANDARD SCORER/POST FORMING SCORER
g/min
7600 / 4400
7600 / 4400
7600 / 4400
MOTOR POWER STANDARD SCORER/POST FORMING SCORER
kW
0,55 / 0,75
0,55 / 0,75
0,55 / 0,75
SOUND EMISSION ACCORDING TO ISO 7960 STANDARD-CUTTING WITH SAW
La eq [dB(A)]
81,2 - 83,9
81,2 - 83,9
81,2 - 83,9
DUST EMISSION ACCORDING TO DIN 33893 STANDARD-CUTTING WITH SAW
mg/m3
0,87
0,87
0,87
NET WEIGHT
Kg
1050
1080
1250
O=ON REQUEST|X=STANDARD|\=NOT AVAILABLE
NX
SX
AX
Device for parallel cuts
O
O
O
Motor driven carriage with variable speed
\
\
O
Carriage 3800 mm long
O
O
O
Post-forming scoring unit
O
O
O
Extension table mm 400
O
O
O
Extra extension table
O
O
O
Stops on fence indicated by magnetic band
O
O
X
Saw blade motor with inverter
\
O
O
Pressure pad 3000 or 3600 mm long
O
O
O
Controls on carriage - automatic starting
O
O
O
Aligning laser device
O
O
O
Cutting width on parallel fence mm 1100 or 1500
O
O
O
Cutting optimizer
\
\
O
Automatic labelling machine on machine edge
\
\
O
Saw fence controlled by programmer on control panel or mobile control panel
\
O
X
Three-axis programmer on control panel or mobile control panel
\
O
X
Scorer pneumatic exclusion
O
O
O
Scoring off-set display
O
O
X
4-axis programmer on control console or on pendent
\
O
O
Programmer with 15" colour touch screen monitor
\
\
O

1 Sawing unit with long shaft
The sawing unit with a long shaft slides vertically along prismatic guides. Stability and lack of vibration are ensured by the considerable distance between the bearings of the long shaft. Power is transmitted through a new PolyV-belt.
2 Excellent cutting finish and quality
The carriage sliding system, with large diameter bearings that roll along hardened and ground prismatic tracks, together with mechanical machining operations carried out on numerically controlled machines, mean stability, no vibration, excellent sliding and straight cutting.
The tracks are fixed to the carriage and to the sub-carriage by mechanical pressure, avoiding any risk of glue losing its adhesion through age